Leaders use cogeneration
Latest systems for simultaneous production of electricity and thermal power from a single source
ENERBLU
COGENERATION
GRUPPO RIELLO ELETTRONICA
Enerblu cogeneration, the new born company inside GRUPPO RIELLO ELETTRONICA, designs and manufactures inside its structure its own range of high efficiency cogenerators that fix new standards of reference in terms of performances and reliability, in order to guarantee energy savings and sustainability.
Cogenerators range starts from the 20 kWe unit up to the 4 MW one, fed through natural gas, LPG, biogas and syngas. Moreover, they are available integrated solutions with trigeneration systems, related to the absorption technology, steam generators, etc.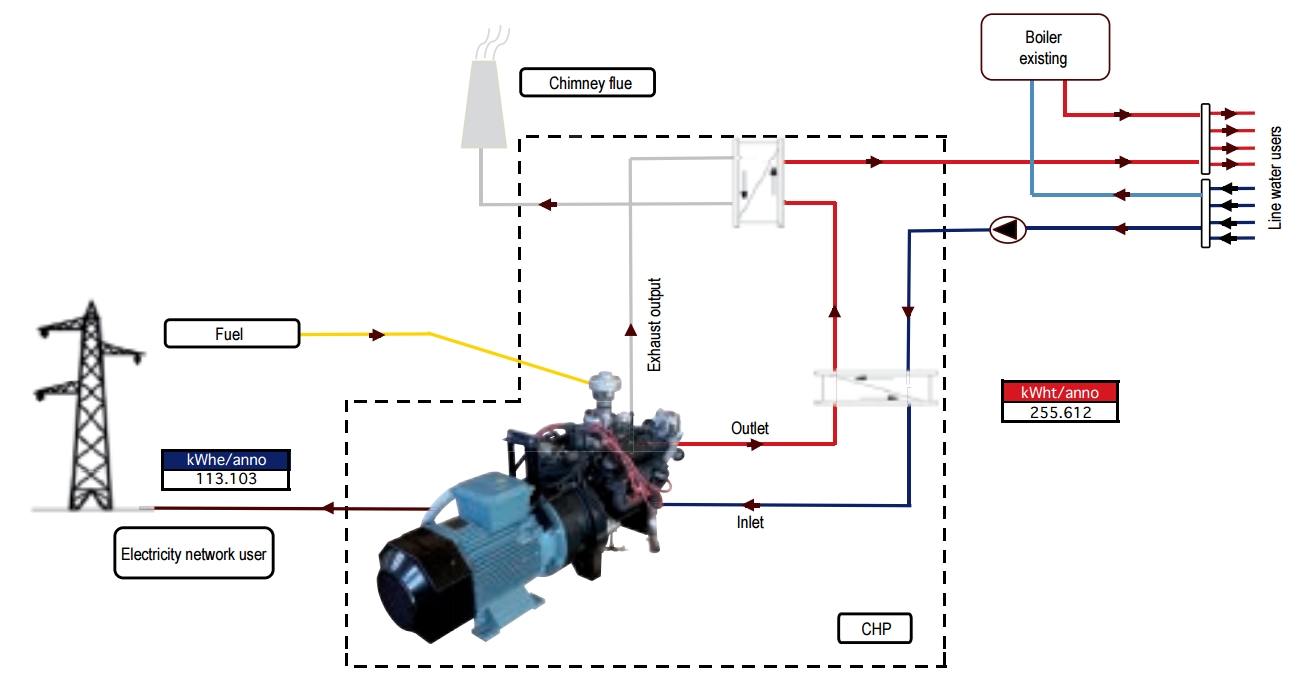 What is cogeneration
Cogeneration (CHP – Combined Heat & Power) is the joint and simultaneous production of electricity and thermal power (warm water, overheated water or steam, diathermic oil) generated from a single source of primary energy.
A recent evolution of the cogeneration concept is "Trigeneration", that is obtained connecting a cogeneration unit to an absorption chiller, a special refrigeration process machine. Such system takes advantage of the thermal energy in output from the cogeneration unit, so to produce cool water, available for air conditioning/climatization purposes or for industrial/manufacturing processes. All these systems are today technically mature and economically convenient for diffused applications.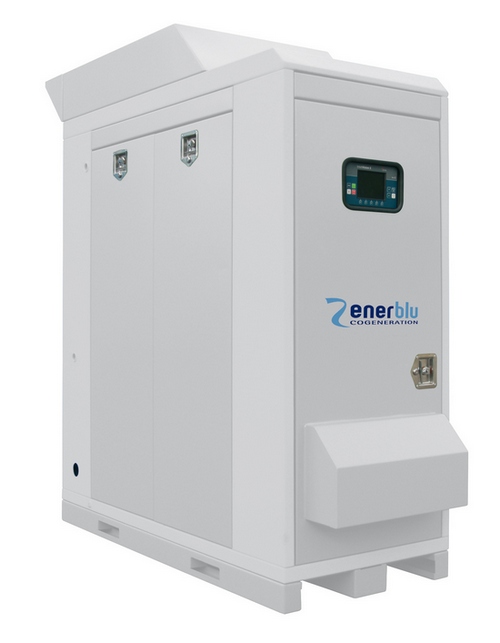 Micro Gas 20-100 kWe
The high-efficiency cogeneration of small size suitable for multiple applications to users in the areas of the service sector, small-scale industry and the environment; favored by the European Union for the dissemination of the culture of energy savings and environmental protection.
REC2 is a range of high effi ciency microcogenerators, fuelled with natural gas and LPG.  The units are suitable for the production of thermal and electric power. Their heavy duty /low speed (1500 rpm) configuration guarantees a long life operation for the equipment. The cogenerators are constituted from an endothermic motor coupled to an  alternator and fixed to the metallic base through anti-vibrating joints.
Contact us for more details
Middle Gas 100-500 kWe
Cogeneration with machines of medium power (100 to 500 kWe), suitable for important complexes of tertiary, manufacturing and process heating services. Important economic benefits are associated to the savings achieved in primary energy.
The range of MEDIUM from 100 up to 500 kWe was developed to standardized solutions in containers, either in cogeneration is trigeneration. Enerblu designs directly all the heat exchangers and the dry cooler for every machine, thus obtaining construction solutions that make our extremely efficient and compact groups.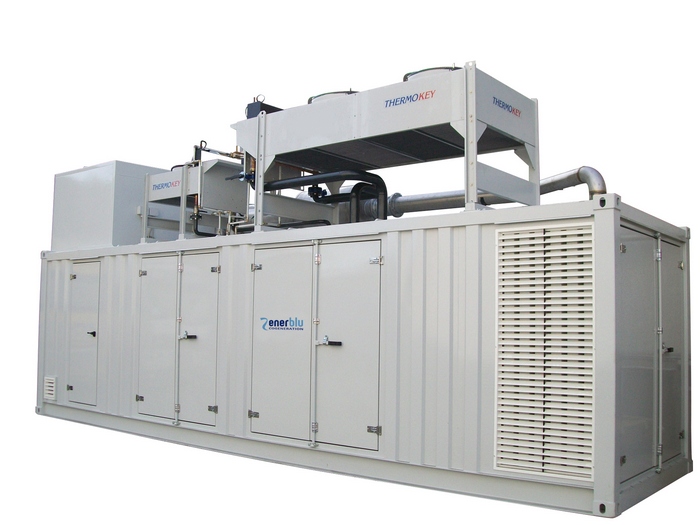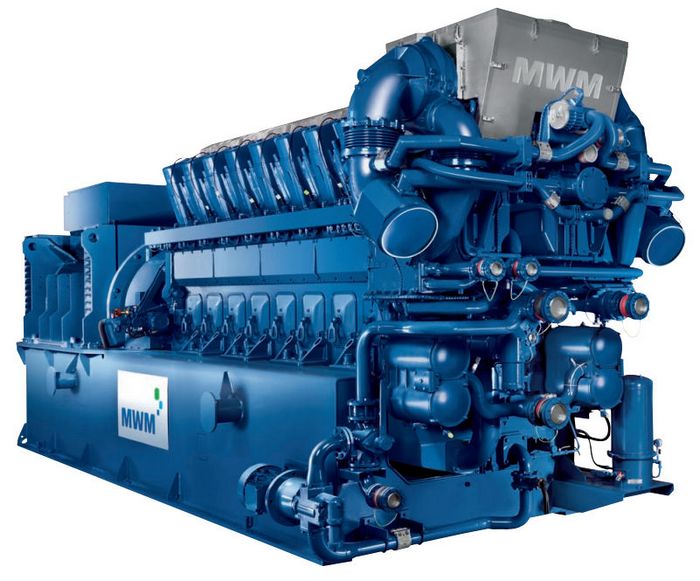 Big Gas 600+ kWe
The cogeneration power machines above 600 kW, suitable for facilities that require continuous use for heat and electricity. Suitable for process industries that need to lower the cost of production of the finished product, and large complexes and industrial consortia interested in operational cost savings.
The range from 600 kWe CHP BIG up to 4 MWe has been developed for standardized solutions in container, either in cogeneration or trigeneration.
Contact us for more details
Biogas
The power of the CHP with biogas from waste-water treatment, waste treatment and animal husbandry, realized through processes of anaerobic digestion, is a great way to combine enhancement of the services also the economic benefits arising from the use of a renewable source. The range covers power ratings from 60 kWe to 999 kWe up, with the possibility, upon request, to reach up to 2 MWe.
Enerblu offers a full range of biogas CHP able to satisfy all the requests that come from the world of animal husbandry, the wastewater treatment plant and the waste sector (landfill). All CHP biogas are provided with soundproofing in the cabin or container but can also be supplied in the form cofanato not under construction, ready to be installed on existing utility room.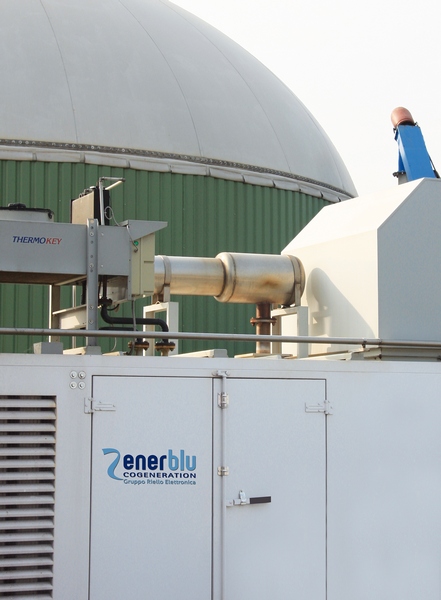 Pyro-gasification
What is Pyro-gasification?
It's the best way to exploit wood biomass without harming the environment.
Pyrolysis and gasification are chemical reactions that have been known for some time but were set aside in the past in favour of readily available fossil fuels. These thermochemical processes simply transform the thermal energy
contained in wood materials, where it has been trapped through the much-cited process of chlorophyll photosynthesis together with CO2.
Pyro-gasification, unlike combustion, does not emit CO2 into the atmosphere but captures it in biochar, a very interesting by-product for the world of agriculture. The production of biochar represents one of the best aspects of this process, together with the fact that pyro-gasification leads to a significant reduction in the consumption of biomass compared with the amount of energy produced.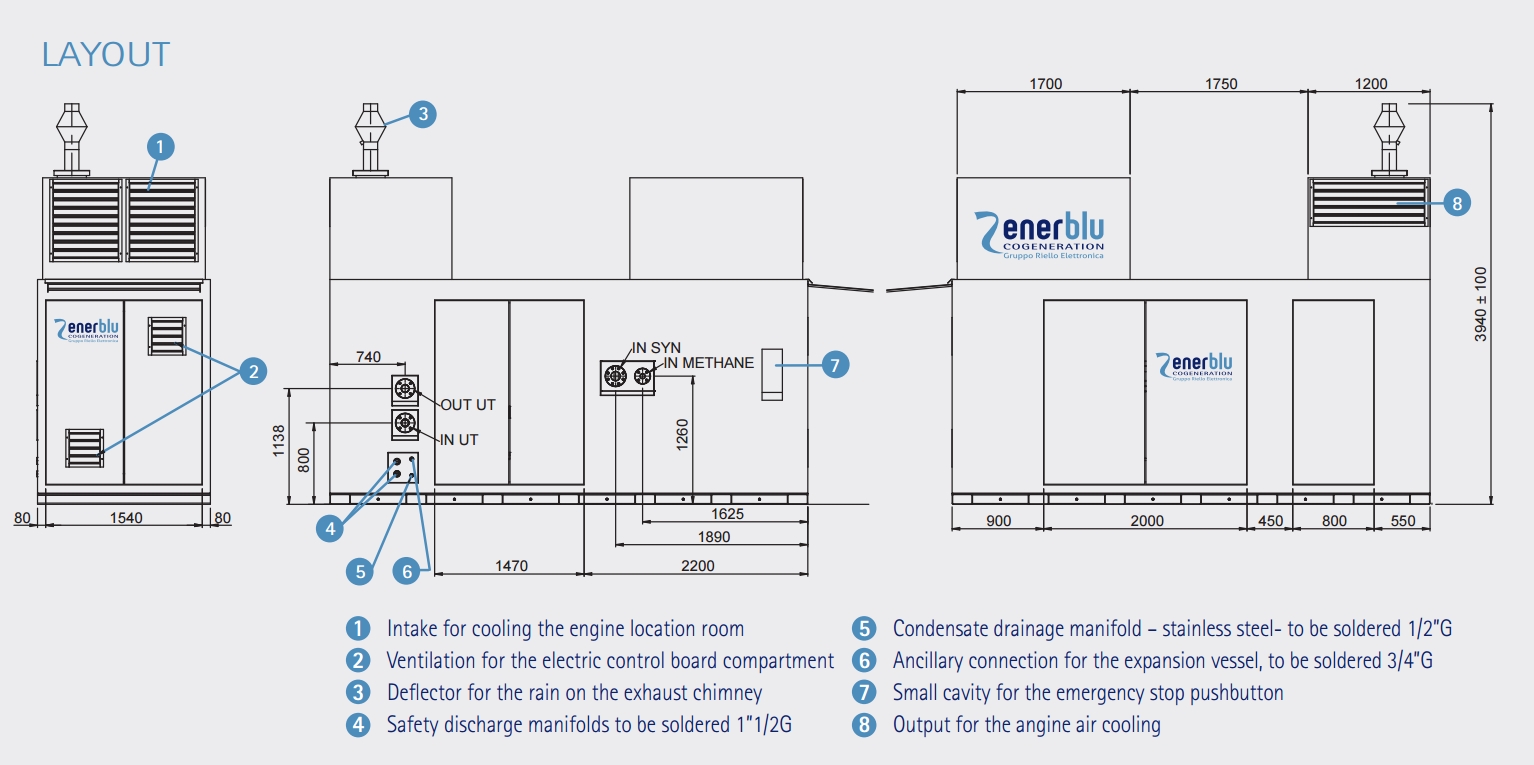 Some of available models
Smart Solutions Pro provides complete process of distribution, project planning and installation.
SCAM T.P.E. cooling towers
Smart Solution Pro offers wide range of SCAM T.P.E. cooling towers, including series FEC, TAR, TAC, FAS/FASF, TRS as well as CCT coolers. Contact us for more info on available models.
View industry cooling solutions
Our partners
We are proud to present you our partners. Currently we are working in Serbia and Montenegro and we provide variety of solutions for heat and cooling systems. Clean technologies and high energy savings is our top pririty.



























Are you ready for the future?